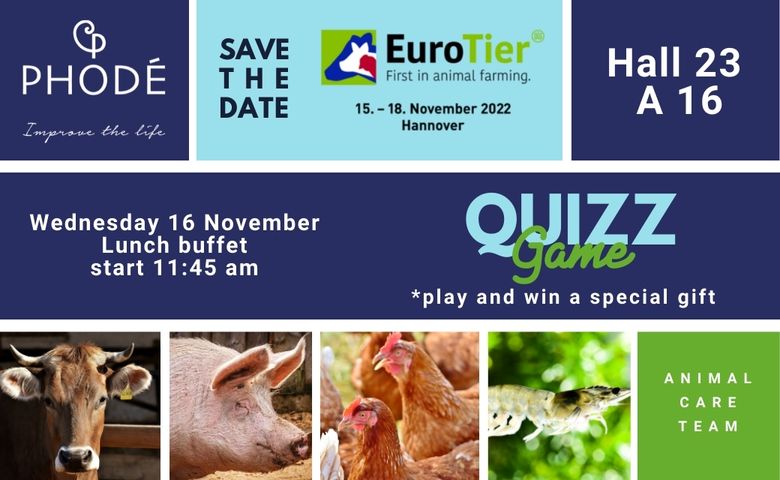 07 Nov

Eurotier
Eurotier 2022: With ranges dedicated to animal welfare and performance, Phodé launches new product formats for feed manufacturers
The world's leading trade fair for animal farming and livestock management, EuroTier will take place in Hanover, 15-18 November 2022. Thousands of farmers and professionals from the livestock industry will join the fair which has been setting standards for over 30 years. In the current challenging context of the industry, the need to find innovative and efficient solutions for animal husbandry is key for a profitable and sustainable production.
Phodé Animal Care team will showcase Hall 23 Booth A16. Mainly focused on animal well-being and performance, the team will present its solutions and novelties. Specialist in olfactory molecules, Phodé team has prepared a bouquet of novelties for this unmissable event of the animal production.
Cannibalism and fights in pigs, feather pecking and scratches in poultry can be handled with the use of VeO. Phodé has been committed to animal welfare for many years and VeO is an effective proven solution to handle the impact of stressful situations (high density, transportation, regrouping, etc.). Already available in concentrate powder, VeO is now available in new formats for feed manufacturers (with an incorporation rate of 1 kg & 2.5 kg per ton of feed), easier to handle and to incorporate to any feed range.
In a context of rising raw material costs, savings are more necessary than ever. Feed costs can be optimized with an effective digestive support. Oleobiotec range is a unique blend of essential oils and spices. With specific formulas dedicated to ruminant and poultry, new formats for feed manufacturer come to the scene with incorporation rates of 1 kg & 2.5 kg per ton of feed.
The Oleobiotec range is also growing with the latest addition for dairy cows, Oleobiotec Saliva Promoter. Some plants extracts can increase the production of saliva and its composition in buffering components. These endogenous buffers in saliva can neutralise ingested acids and thus help manage the risk of acidosis.
Another novelty for the German fair is the new range named Norasytem Livestock. Based on a unique and patented technology of odour destruction, this range has 3 products for different applications on litters, buildings and effluents.
Wednesday 16th November, join us for a lunch buffet, the occasion to also discover our new ranges. Starting at 11.45, on our booth, all the team will be delighted to welcome you and discuss about your challenges and our novelties.