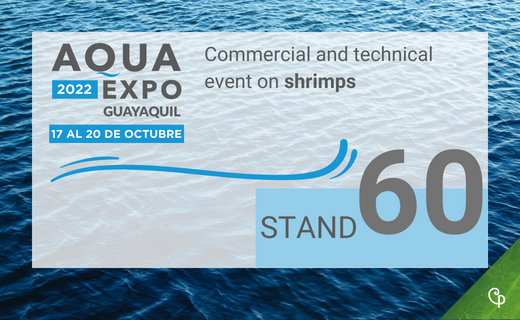 14 Oct

AQUA EXPO 2022
It arrives in Ecuador! The new Olpheel range!
From Monday 17th to Thursday 20th October, Phodé will be present with its distributor Agrosuncorp at Aqua Expo. Meet Amine Chaabane, aquaculture market manager at Phodé, for the launch of a new Olpheel range in Ecuador at the Guayaquil Congress Centre and take part in the most important technical exhibition for shrimp farming on the American continent.
Phodé is one of the French players in aquaculture and this exhibition is an opportunity for you to discuss with us your challenges and our latest technological advances in shrimp production. In particular, the new Olpheel range with its 3 products: Olpheel Good, Olpheel Protect and Olpheel Anti-Ox. Dedicated in part to shrimp, the Olpheel range supports animal performance and welfare in aquaculture, addressing challenges such as reducing stressors, supporting the animals' natural defences and metabolism, and stimulating appetite and feed intake.
Join us at stand 60 to find out more about the Olpheel range!
Aqua Expo has been held for over 20 years in Ecuador! Consisting of a trade show and a scientific and technical congress, the major exhibition organised by the National Chamber of Aquaculture of Ecuador (CNA) is the meeting place for the aquaculture community. The trade show features more than 60 national and international speakers and welcomes approximately 3,000 people each day, in the 7,000 m2 of exhibition space.
Phodé participates in various topics of importance to the aquaculture sector discussed at the congress:
– animal welfare and management of stressors,
– support of natural defences,
– feeding and its optimisation,
– and the quality of finished products.
More information on : AQUA EXPO 2022