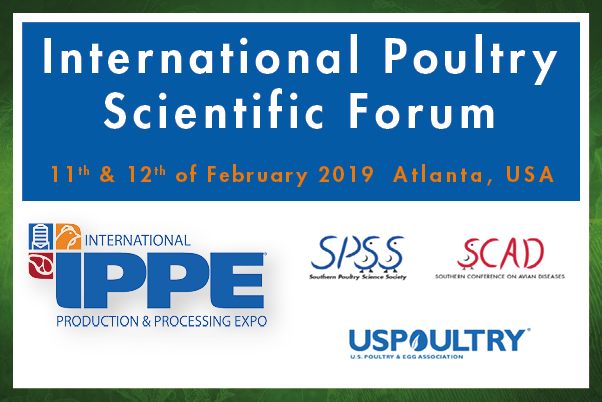 21 Jan

International Poultry Scientific Forum, 11th & 12th of February 2019

The International Poultry Scientific Forum will take place in Atlanta at Georgia World Congress Center, and start the day before IPPE opening. This forum presents information on industry topics such as environmental management, nutrition, physiology, pathology, processing and products, and avian diseases.

Our Scientific Manager Animal Care, PhD Jean-François Gabarrou will present a poster & attend an oral presentation.

Poster Title P331: 'Evaluation of a specific blend of oleoresins of spices and essential oils to replace an antibiotic growth promoter program on broiler performance'
2/11/2019at 4:00 PM- 6:00 PMin B313 Foyer.
Oral presentation: 'Evaluation of a specific vectorization of curcumin to reduce inflammatory indicators and improve growth broiler performance'
2/12/2019 at 9:45:00 AM in B314.
Learn more about the event : http://www.ippexpo.org/ipsf/